Did you know that only 27% of internet users in India browse the net in English? Businesses looking to stay ahead of the competition need to be sensitive to the needs of the remaining 73% of the multilingual Indian demographic.
Not sure how offering multiple languages to your online customers makes a difference to your business?
Sample some key figures to understand how multilingual content can change your ecommerce business;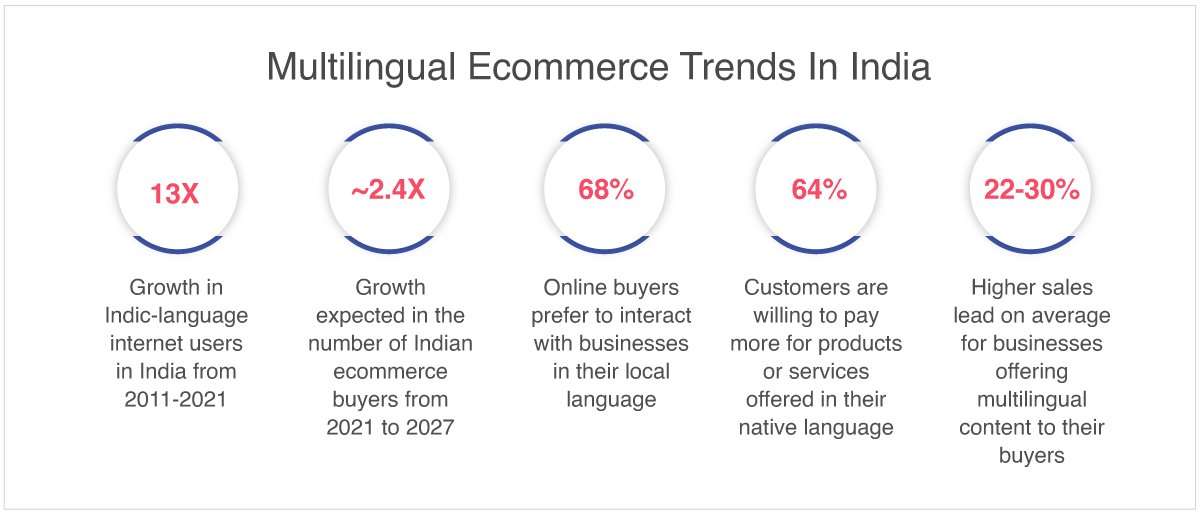 Source: Statista, Bain & Co.
Well, the figures say it all!
Multilingual content can work wonders for your business.
By enabling buyers to access your business in multiple languages you not only evoke customer confidence but can easily nudge them to buy more.
ONDC network, the novel government-backed initiative has been envisioned and launched to democratise ecommerce. While on the seller side the open network offers a level playing field to SMEs and on the buyer front it aims to offer more choices, competitive prices and a better hyperlocal buying experience to the customers.
The number of Indian ecommerce buyers is expected to swell from 18-19 crores in 2021 to 40-45 crores by 2027. However, a key fact to note is that much of this growth will come from Tier II-III cities. To cater to the diverse customer segments of online buyers coming from far-off areas across the length and breadth of the nation, it is imperative to have multilingual buyer apps for the open network.
After all, the government's "Vocal for Local" initiative can be furthered only when ONDC network can connect the maximum possible number of buyers with their local sellers in local dialects and regional Indic languages. With a buyer app in multiple languages, the whole idea reaches fruition by enabling the customers to browse, evaluate and eventually buy products in their native language.
Aligned with the government's vision of facilitating more and more buyers to benefit from online buying, Mystore has upgraded its Buyer App to have multiple languages. As of now, the Mystore Buyer App is available in three languages, i.e; Kannada, Hindi and English so that buyers across India can easily search for and buy their desired products on the open network in their native/preferred languages.
Buyers can get the following benefits from the multilingual capabilities added to the Mystore Buyer Application:
Get product names and descriptions in multiple languages
Understand and evaluate a variety of products in a better way
Make a well-informed purchase decision by understanding product information in a better way
While the buyer app in multiple languages makes online shopping easier for millions of customers, it also comes as a boon for the sellers. Let us check out the top 5 benefits of the multilingual Mystore app for SMEs selling via the open network. Here we go;
Well the maths here is simple. The more languages you enable for your customers, the wider customer base your business will have. With your buyers having the capability to browse products in English (27% internet users in India), Hindi (38% internet users in India) and Kannada (5% internet users in India) languages, you can easily expand your target audience manifold (Source: Sanrachna Foundation).
And what's most important is that you absolutely need not do anything to reach these buyers. You can just ask your buyers to use the multilingual app for ONDC network buyers and make it easier for your customers to discover and buy your products in their native language.
Did you know that;
57% of online buyers consider non-localization as a negative bias
75% of buyers will spend less on products that did not support local languages
To put it in simple words, businesses that can show content in local languages are perceived by customers as caring and customer centric.
Wonder what follows next? Loyal customer base that not only keeps buying from your business but also spreads word about your brand and brings more buyers by word of mouth promotions.
When buyers discover your business in their preferred language on the Mystore Buyer App, they feel more connected to your offerings, products and services and instinctively trust you as a seller. Isn't that a wonderful way to start selling on the open network? It definitely is!
Despite the lines between online and offline buying blurring, online buying still fails to give customers the benefits of sensory evaluation of the products they intend to buy. To compensate for this buyers need to have detailed product descriptions, images from different angles, videos etc. to best examine and evaluate their intended purchase.
Alas, all of the detailed information about a product can go in vain if the customer fails to comprehend the language well enough. Here is where a multilingual buyer app for ONDC network can turn the tables in the favour of sellers. With support for Hindi, Kannada and English, Mystore app for buyers makes it possible for buyers to evaluate and understand products better. With better product understanding buyers can make more informed decisions which keeps them happy with the product and the seller.
What will you do when browsing, finding products, evaluating their features etc. becomes easy for you? You will be inclined to buy more products and buy more often. Wouldn't you? After all, that's what ONDC network promises to help you with. Bring the goodness and convenience of online shopping combined with the ease of getting products from local vendors delivered to your doorsteps.
Add to this the ease of shopping in multiple languages with the Mystore buyer app in Hindi, English and Kannada. And all of this put together means more orders for the SMBs and brands selling on ONDC network.
What do online sellers dread the most? No second thoughts about this one, its the two R's, Returns and Refunds! While there are many reasons for product return, one of the most important one is that customers couldn't understand the product description well. When buyers find a mismatch between what they thought a product to be and what it actually turned out to be, they end up returning or even initiating a refund for their purchase.
Such misjudgements can be curtailed to a great extent when 360-degree product images are accompanied by detailed descriptions in customers native language. With Mystore buyer app, customers can evaluate product descriptions in their native which helps them make better buying decisions. This in turn minimizes returns and refunds saving the sellers from the pain of reshipping orders or losing a customer due to refund.
ONDC network has literally opened up a whole new door of possibilities for Indian buyers and sellers. By connecting buyers to their local sellers in their native languages, multilingual buyer apps are giving a much needed push to the novel initiative.
Mystore has already bolstered its offering for the buyers by adding three languages namely Hindi, Kannada and to make buying easier, faster and engaging on the open network. Sellers registered on the Mystore seller app can benefit from the advanced buyer app by encouraging their buyers to use the the app while searching and buying products through the open network.
Mystore envisions to add more languages to its buyer app for ONDC network as the open network launches in new geolocations. Sellers from diverse industry verticals can grow their reach by registering on Mystore seller app and helping their buyers make better purchase decisions through Mystore's buyer app in multiple languages.
Ready to explore ONDC network? Register free of cost on Mystore right away!